MODEL # ES350 240VAC 50 AMPS/POLE
Automatic Transfer Switch
Automatic switching between shorepower, generator and inverter
Designed for rigorous use utilizing two heavy duty contactors rated up to 50 amps
120/240v shoreline, 12kw generator and an inverter relay rated 6kw, 50 amps 120v
Transfers both hot and neutral legs simultaneously
Designed to shed inverter power loads when used with a 30 amp transfer switch
Utilizes both mechanical and electrical interlocks to insure no power feedback
Capable of monitoring voltages on both the generator and shore line - specify volt board when ordering
Built-in time delay allows generator to get up to speed
Quick and easy installation
Designed for OEM and aftermarket applications
The ES350 is designed to monitor both legs of the generator supply with the generator always being the dominant source. In addition to functioning as a generator time delay (average 30 sec.), the integrated control circuitry monitors the generator supply voltage. Should generator power output drop to 105VAC or less for 5 seconds after the time delay sequence, the control board switches power back to the shore input. If shore power is not available, the ES350 will source inverter power. Once the generator output measures above 105VAC, the ES350 will switch from shore power or inverter power back to generator power.
The ES350 is designed for use with generators having a rated output of 50 Amps at 120/240VAC single phase 60 Hz, an external power source (shore cord) of 50 Amps at 120/240VAC single phase 60 Hz and an AC inverter supplying up to 50 Amps at 120VAC.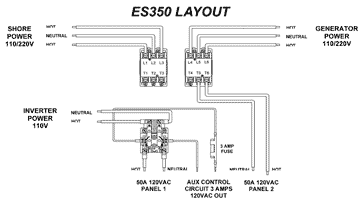 PHYSICAL SIZE: 12" x 10" x 6"
KNOCKOUTS: Assorted
WEIGHT: 14 lbs

Cautions:
install according to national electric code
install vertically in a dry, ventilated & accessible area
keep covered except during wiring as contactors are sensitive to dust and debris
when hi-potting coach, disconnect ES350 or hi-pot on load side of switch. This unit has been hi-potted to UL standards at the factory
WARRANTY: Elkhart Supply Corporation warrants that this product shall be free from defects in material and workmanship for one year (twelve months) from date of purchase or eighteen months after date of manufacture, whichever is less. If, after our inspection a defect is revealed, the unit will be repaired and returned, at our discretion. We will accept up to 1/2 hour (30 minutes) labor for the unit to be changed out or $18.00, whichever is less. This warranty shall not apply to any product that shows evidence of neglect, misuse, improper installation, or that has been repaired or altered by any other party other than this company. Proof of purchase is required.