Model # 091-53-12

The Auto Charge 1200 is a fully automatic battery charger with a very high output for vehicles with a single battery system. Remote voltage sensing is provided to compensate the charger output for the voltage drop in the charging wires. No sense lead wires are required. It is ruggedly constructed for mounting in the vehicle. May be used for positive and negative ground systems.
This charger has two built-in indicator options. Option 1, as shown, is the standard, 10 Element, Single Bar Graph Display. Option 2, is a new Auto Charge Deluxe Status Indicator. This indicator has digital voltage and ampere display, a 5 segment bar graph display to indicate the output current, and 4 LED's to show the condition of the batteries.

40A, 12V charge rating
Automatic operation regulates output to a single battery bank

Automatically charges and supports parasitic DC loads: data terminals, radios, hand lights, etc. assuring battery is ready for vehicle start

A patented built in sense circuit, checks battery voltage 120 times per second, to compensate for voltage drop in charging wires providing quick recharge, with no overcharge
Designed for rigors of emergency vehicle use; heavy duty aluminum case

3 year warranty

Order 091-187-12-194 for this option.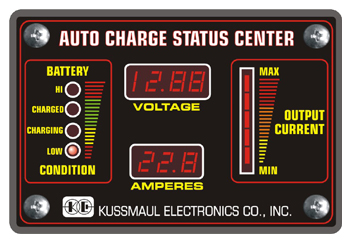 Specifications:

Input: 120 volt, 60 Hz, 10 amperes


Charger Output:

12 Volts, D.C.


Output Current:

40 amperes maximum


Voltage Sense:

Remote, electronic, no sense wires required


Power Indicator:

Indicates input power applied.


Charger Output Indicator:

bar graph display, indicates state of charge condition of battery.
Weight: 26 Pounds
Warranty: 3 Years




Instruction Manual (.pdf file, 71Kb)